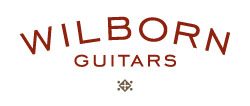 Ben Wilborn is one of the builders that we have recently added to the array of fine builders that we represent at Dream Guitars. We receive numerous requests from builders, new and established, to be part of Dream Guitars. It's very humbling to be the ones that they wish to represent their work. In the case of Wilborn guitars, we invited him to send us an example of his work because tone is the first thing we always look for in a new luthier's instruments. It only took about 20 seconds to figured out that Ben knows how to get tone out of his instruments. We were also smitten with the fit, finish and overall design of his guitars – very elegant, leaning towards traditional but definitely having his own style…and so began our association with Ben.
We at Dream Guitars are known for commissioning unique custom instruments for clientele as well and we were excited to see
something even more artistic from Ben. As a result, Paul Heumiller, owner of Dream Guitars and Ben went to work to decide on specs for a custom Wilborn parlor guitar. "I love to work with builders on custom instruments. Having seen thousands of guitars helps me develop an intuition for both stylistic and practical features on the guitar. At the same time I love to leave room for a builder to express himself. So Ben and I collaborated on a number of design elements in this parlor guitar, but then I left him to do the rest. I can't wait to see the final instrument as I know it will be both beautiful and expressive aesthetically and musically." – Paul Heumiller.
This incoming Parlor will feature Brazilian Rosewood and Vintage Sitka Spruce cut in the 1960s, Leapordwood Bindings, Brazilian Rosewood Fretboard and Bridge and a short scale, 12 Fret Neck. Yummy!
Click here to see our in-stock Ben Wilborn Guitars
Contact us to reserve this incoming Wilborn guitar or to inquire about the many custom builds we have in process at any given time. Capture your Dream Guitar.
https://cdn.dreamguitars.com/2021/06/UZGgx4zB-al-wil1.jpg
310
475
Paul Heumiller
https://cdn.dreamguitars.com/2021/06/dreamguitars-logo.png
Paul Heumiller
2015-02-17 05:00:00
2021-06-30 12:55:06
Dream Guitars adds Ben Wilborn to its Array of Fine Builders