UPDATE: Paul's personal baritone guitar built by Ken Jones and Mountain Song Guitars has been completed and added to the Dream Guitars website!! Sorry folks, this particular one is not for sale but you can order your own Mountain Song baritone through Dream Guitars! Click here for more info on Paul's baritone and Mountain Song or click on one of the images below to watch Al and Paul jamming away on this beauty!
COMPLETED MOUNTAIN SONG BARITONE
ORIGINAL BLOG DURING THE BUILD
Ken Jones is up to it again – this time this guitar is going right to our own Paul Heumiller. Ken is building Paul a very special
Baritone featuring Padauk, Carolina Red Spruce and fanned-fret neck. The scale lengths range from 28.5″ on the bass side to 27.25″ on the treble. The body is slightly smaller than Jumbo proportions with a 16.5″ lower bout and 20.5″ body length, and a 4.75″ body depth at the tail, tapering to 4″ at the heel. Ken also offers the same body shape in a full-Jumbo size of 17″ LB and 21″ body length, with a 5″ body depth at the tail and 4.25″ depth at the heel. Top bracing is also Carolina Red Spruce.
"I knew for certain that I wanted the body to be Padauk Wood. The finest baritones I have ever played were made from Padauk. It has an amazing clarity that really helps the bass notes maintain separation when they're tuned down to A or B. In recent years I have been primarily playing Fanned Fretted instruments and knew that I wanted that element as well. I play in many alternate tunings and it is key for me to have the bass strings longer than the treble strings. It insures that my bass notes will be strong and never floppy, while at the same time the trebles maintain a pleasant tension and sweet tone. Ken had a chance to get some wonderful local Carolina spruce tops from legendary luthier John Arnold so he suggested we use that for the top as it is wonderfully stiff and has incredible tap tone," says Paul Heumiller.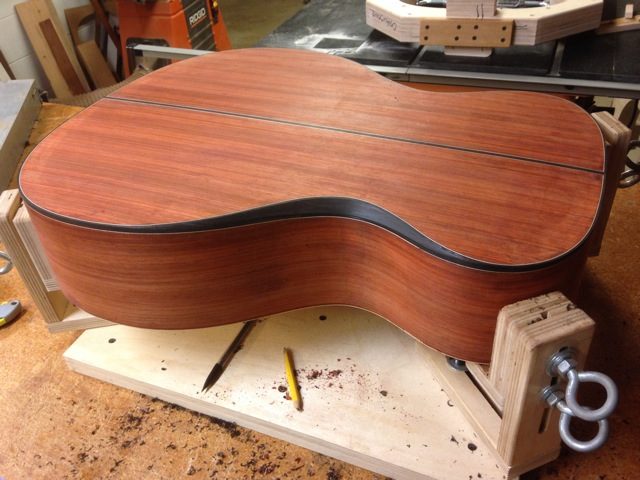 Other details include ebony headplate, fingerboard, and bindings, armrest bevel and ribrest bevel and a one-piece, carbon fiber reinforced Honduran Mahogany neck with double-acting truss rod.
Paul first played a Baritone guitar at Martin Simpson's home in England many years ago. That very first moment he felt a wave of inspiration that has led him to continue to play in alternate tunings and on Baritones ever since. Paul states, "The most wonderful thing about the Baritone guitar is that you play exactly the same piece that you would in standard pitch but everything changes. The low register, rumbling bass and sweet, lucid trebles alter the mood and inspire the soul."
"I started to play the guitar for the sole purpose of writing songs. While I can do a lot of things on guitar, I consider myself primarily a  singer-songwriter. So whether an instrumental piece or accompaniment, my Baritone guitar offers me a voice that takes me into another world, another head space and invites me to write something I would likely never find at standard pitch," says Paul Heumiller.
Paul continues, "When I decided to invite Ken Jones of Mountain Song guitars to build me a Baritone instrument we had long conversations about the many Baritones that I have been able to play in the shop over the years. I am in the very fortunate position of getting to play the finest guitars ever made every day of my life. I have played many Baritones by Lance McCollum, Bill Tippin, David Berkowitz, Steve Klein, Ralph Bown and so many other of the finest makers in the world. So having the chance to collaborate with Ken was like dropping a three-year-old in the middle of a candy store with a credit card!!"
"It's been really enjoyable and informative collaborating with Paul on the various design elements, from the scale-length spread, to tonewoods, to the neck shape/profile. That was particularly interesting, since we were able to look closely at some of Paul's favorite neck shapes, and come up with a hybrid that perfectly suits his needs. It's essentially a D-shape with a slight V carved into the bass-side. We decided to keep the adornment to a minimum, with side dots only, and just a small inlay on the fingerboard at the twelfth fret. Being a large-bodied guitar, we agreed that an arm bevel was in order, as well as a super-comfortable ribrest bevel," says Ken Jones.
"Paul has played more of the world's finest guitars than just about anyone out there, and it's been a pleasure and honor to learn from his insights what makes a truly great guitar," Ken continues.
Great news! There are two more Baritones underway from Ken and Mountain Song Guitars – one in Quilted Maple and another in Cuban Mahogany. Ken is shooting to have these completed by the end of this year. These two will have similar features however it is still early enough for customizations.
Call today 828-658-9795 to reserve and customize your own Mountain Song Baritone Guitar!!
https://cdn.dreamguitars.com/2021/06/TjLP0ef0-bari-comp.jpg
1354
2000
Paul Heumiller
https://cdn.dreamguitars.com/2021/06/dreamguitars-logo.png
Paul Heumiller
2014-08-12 04:00:00
2021-06-30 12:37:48
An Amazing Incoming Mountain Song Baritone Guitar