We're proud to announce that Dream Guitars has teamed up with Raymond Kraut as his sole representative for North America. To celebrate the occasion, we sat down with Ray for a chat about life & lutherie, how his career has evolved over time, and what we can look forward to in working so closely together. We've also got two brand new Krauts, an OM and a Mod D, that are, as of this writing, available for purchase, which you can find here: https://www.dreamguitars.com/shop/builders/kraut.html.
LW: I'd like to start with a bit of a then-and-now question. You've been on the lutherie circuit for some time. In what ways do you feel you've progressed since embarking on this career? In your eyes, how has Kraut Guitars evolved over time?
RK: I'm always changing and evolving, be it in design or engineering. I've always loved the tone of what has now commonly been described as "Somogyi-esque," and have always been pleased with my ability to achieve it. However, I've always strived to find ways to make a guitar of this style lighter. Through the years I have done just that by way of using removable neck systems so as to build lighter headblocks, and now I use high-quality Port Orford Cedar interior laminates because of its lightweight and stable nature, rather than heavier alternatives like Rosewood. I can't say it's one thing that has allowed me to achieve this, rather, many smaller things which overall make for a significant difference in weight and comfort. Stylistically, I will always be evolving. I can't seem to sit still on certain design elements, which always keeps me moving into other directions, be it with material choices, color or different ways of playing with line values. It's really quite exciting for me and also makes me particularly skilled at inlaying in this manner. Every rosette or inlay, I seem to learn something new. I consider my work, in almost every aspect, to be constantly evolving from one guitar to the next.
LW: What lessons did you take away from your apprenticeship with Ervin Somogyi?
RK: Geez. Hard to list them all. I remember leaving Roberto Venn thinking that I knew all I needed to know about building guitars. I thought I would apply for Ervin's apprenticeship despite this, just to see what it was like working in a professional shop and because one of my previous teachers strongly recommended it. The wealth of knowledge that Ervin has then far exceeded anything I could have ever imagined. I walked away with the equivalent of a Harvard education. It wasn't just learning about the ins and outs of guitars, but life as well. Ervin changed everything for me, from understanding what a good guitar can be to open my eyes to the world of art and how important it can be in life. I had worked for Ervin for about a month before I ever had a chance to play one of his instruments. I remember fondly of how I almost dropped one of his guitars the first time I hit a chord on it as it in every way shocked me. Up until that point I coveted the guitars I grew up with thinking they were my holy grail guitars. Nope. Not anymore. So I walked away with an education on a whole new way of thinking about the construction of a guitar. One that allows the instrument to move and sound optimally to any style of playing. I also walked away with a much greater understanding of line value that continues to inspire me today.
LW: Besides Ervin, which other luthiers do you feel influenced by?
RK: It seems today that there are many luthiers trying new things to establish their own unique styles, something that sets them apart from the growing number of people entering the field. When I first started making rosettes that weren't your typical ring, my teacher, John Reuter, introduced me to the work of Michihiro Matsuda. I'll never forget Googling him when I got home from school and seeing his gorgeous masterpieces. I said to myself, this guy is expressing himself the way I envision a guitar to be. Not only a guitar but a visual piece that inspires. I have always been a great admirer of his work! I believe that being inspired by the instrument you play helps to open new doors as a musician.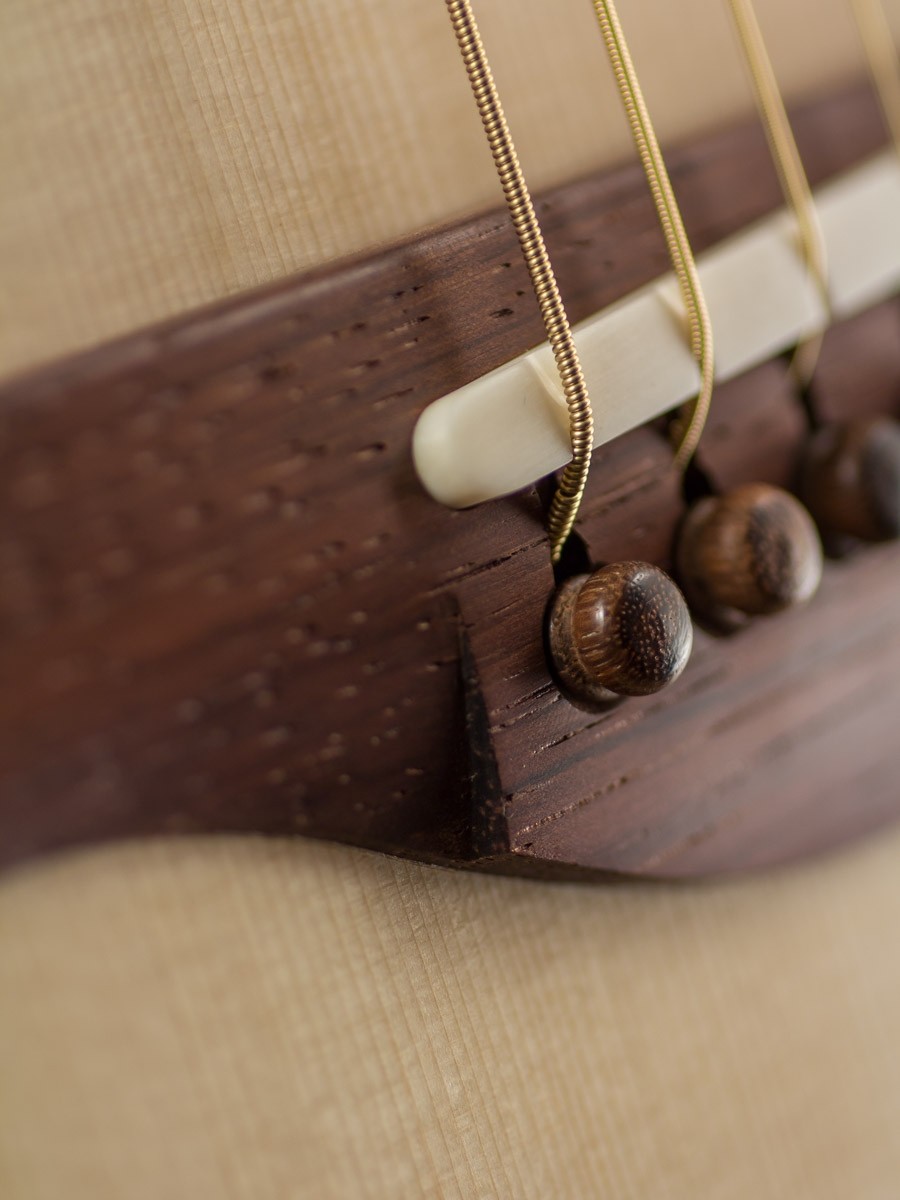 LW: In your opinion what separates you from the pack of strong, young luthiers these days?
RK: It's been interesting to see this field evolve over the years. I remember being the youngest luthier for a long time up until recently when its seems hordes of younger luthiers have found the joys of this craft. Many younger luthiers are clearly inspired by the works of both Michi and myself. A large difference I see is that many of them take designs from others that aren't uniquely their own. I always want to encourage others to be inspired but to find their own voice in design. It's tough to do. Every student I have had come to me wanting to do interesting inlay designs all started off making what were practically identical designs to mine. As flattering as that is, I would have them draw as many different styles over and over again until they think of something unique. It can be frustrating but in the end every one of them has crafted a design that is truly their own and honestly, really amazing! Aside from the obvious visual differences of my instruments, very few have had the opportunity to study with Ervin. I have never taken for granted the fact that I had the distinct honor of studying with Ervin, and it's that knowledge I obtained from him that puts me in a different tonal spectrum than many other luthiers today. Experience in this craft isn't something you can teach: it's something you earn over time. When I see the new builders at shows, it makes me a bit nostalgic. It's like looking back in time. More than anything, it's my experience and maturity in my craft that set me apart.
LW: You've managed to move through several shop spaces while maintaining your workload. Why the moves, and how did you balance that with completing orders?
RK: Ugh. Yes, I have had many shops. More than any luthier I have known. I guess it was just life and a world of unforeseen circumstances. The first shop I opened up in Springfield, OR I leased from the city. It was a very old building that sat above a mill race (a small river used for the logging industry). Only a year after setting up shop there, the city passed a new bill that would require tearing down that building for the sake of salmon habitat. That was quite a blow to me, having just settled in. They were good to me though, and offered me a larger space close by. Three years I spent in that shop before deciding to move my shop into my house. Subsequently, after one year of being there I bought another house and I had to move once again. After a couple years there, I needed more space and found myself renting a large space outside of Eugene for some time, only to fall victim to the marijuana scene. By that I mean it was legalized in Oregon, and all of a sudden there was a strong demand for space. Owners of these buildings were selling out left and right to the pot business, and many small business were getting the boot so the newfound owners could have more room for growth. I finally decided to make a big change, one that would allow me enough space and security that I wouldn't need to move ever again. My wife Allyson and I purchased acreage just north of Tucson, AZ where we have began construction of our dream shop and house. As tired as I am of moving, it has been a great benefit for me. It's made me greatly aware of space and its value. I feel I could be an architect for all the considerations I have learned over all my moves. Who knows, maybe I'll write a book someday on setting up the luthier's workshop!
LW: Now that you've settled into a groove, what projects of late are you the most excited about? What aspects of your most recent orders have you found most inspirational?
RK: Honestly, all my work is inspirational to me. In a way, I designed it that way. Every design on my guitars is unique, so every guitar has something new that keeps me excited, one after the next. That being said, I have recently made a decision to start building a couple of guitars that go beyond my usual style. I have some unique designs coming up that defy what we think of as a normal guitar, and of course I'm excited by those!
LW: I'd like to change gears here a bit to discuss our new arrangement. First, we're grateful and honored to be your sole dealer in America, and we're excited to see where we can take Kraut Guitars. So. What led you to shift your business model toward a sole dealership?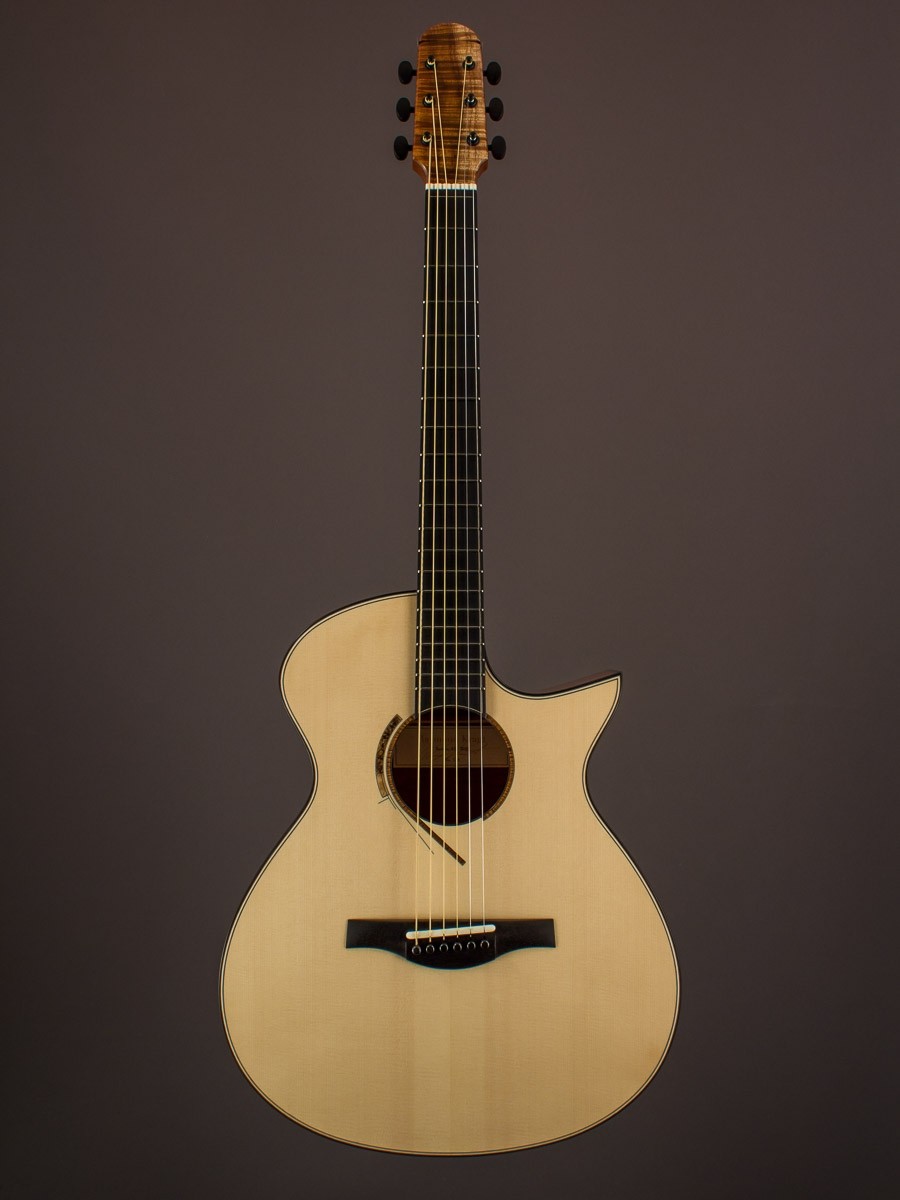 RK: As previously mentioned, I have a lot of experience in this field. Not all of which has been good. I was never trained to run a business. I was trained on how to build some of the best guitars in the world. Building guitars is where my passion is, and over the years I have found myself having to put up certain boundaries to maintain that feeling. This was an interesting learning experience for me, as I find myself very much in love with building guitars and therefore it's personal to me. With all the recent changes in my life, I now, more than ever, believe in finding a good balance to life in every outlook. The most important thing to me in my working life is maintaining my passion for the craft, so I decided to focus all of my time on building and new ideas. In order for me to have this time, it was best to reach out to someone I trusted to represent my guitars for me.
LW: In working exclusively with Dream Guitars for the North American market, how do you predict your process and workflow will evolve?
RK: I believe this gives me more time to evolve as a luthier. I've spent so much of my time handling non-guitar building things that now I will have more mental space to do what I do best. I have so many ideas that I would love to bring to the playing world, and more than anything that is what I aspire to. It's important for me to not only imagine but to create.
LW: Any other thoughts you'd like to share?
RK: After my apprenticeship with Ervin, I really became aware of how important it is to pass along the knowledge we've spent a career procuring. After reaching ten years in the business, I decided to open my doors to anyone interested in apprenticing with me. I felt a need to start passing on my knowledge, and this has allowed me to find yet another joy in my world through teaching. I have had the pleasure of teaching quite a few students, all of which seemed to absorb what I taught them and have really made strides in developing their own unique craft. I hope to do this more over the years so long as I can convince others to come live in the beautiful Sonoran desert!
https://cdn.dreamguitars.com/2021/06/G6tC2Evy-krautdreamsolepromo.png
1080
1080
Logan Wells
https://cdn.dreamguitars.com/2021/06/dreamguitars-logo.png
Logan Wells
2019-05-01 17:42:31
2021-06-30 14:01:05
Dream Guitars: Kraut's Sole Dealer