We recently met up with a dynamic young player, Yasmin Williams, who was on the hunt for a quality steel string to take her playing to the next level. Here's a sample of the kind of tone we're talking about here: https://www.facebook.com/dreamguitars/videos/2022839427746979/.  After taste testing nearly every guitar we had in the shop, she finally found what she was looking for in Eric Weigeshoff's Skytop Guitars. Yasmin had a few additional requests, and after working out the details with Eric we've settled on a custom build with a Teredo-holed Sitka top, multiscale fingerboard, and a few other juicy details. According to Eric, the Sitka came from a "log that was a float log in Alaska for about 50 years, and the mollusks got in then. Most of it was used for firewood, but I got a stash of it that's been great to use as soundboards. This will be my 4th Teredo-holed guitar." Eric has already started the build, and we wanted to keep you all in the loop as it progresses. Stay tuned and keep checking back, there's a lot more coming down the line!
Custom Skytop Grand Concert
Multiscale fingerboard: 25.4″ to 24.9″
Back: Indian Rosewood
Top: Teredo-Holed Sitka Spruce
Binding & end graft: Curly Koa
Top/back purfling: B/W/B
Side purfling: Maple
Neck: Honduran Mahogany, C Shape
Nut: 1-11/16″
Saddle spacing: 2-1/4″
Bridge: pinless Ebony
Fretboard binding & 12th fret: Curly Koa
Headstock veneer: Ebony
Backstrap: Indian Rosewood
Tuners: Gotoh 510 Cosmo Black
Florentine Cutaway
9/28/18 Update: It's been a few weeks, but Eric's been busy at work on our custom build for Yasmin Williams. Now he's finished building the jig for the multiscale fretboard, roughed-in the soundports, and glued and carved the back braces. Stay tuned for more!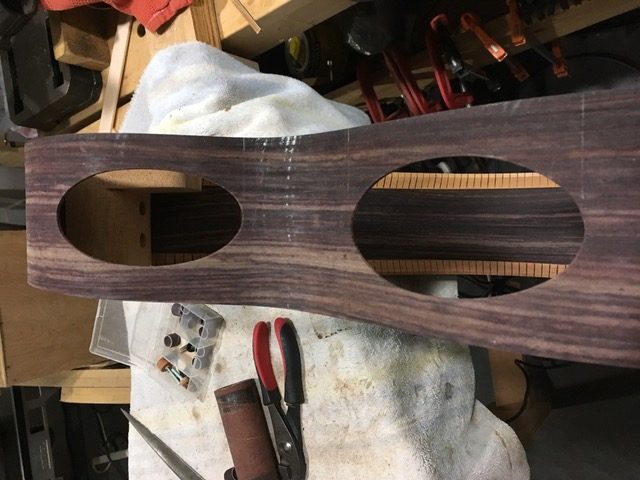 10/11/18 update from Eric: "Got the top braced and carved, and closed up the box this week."
11/5/18 update from Eric: "All coming along swimmingly at this point. Got the box closed and bound, and now working on the fretboard."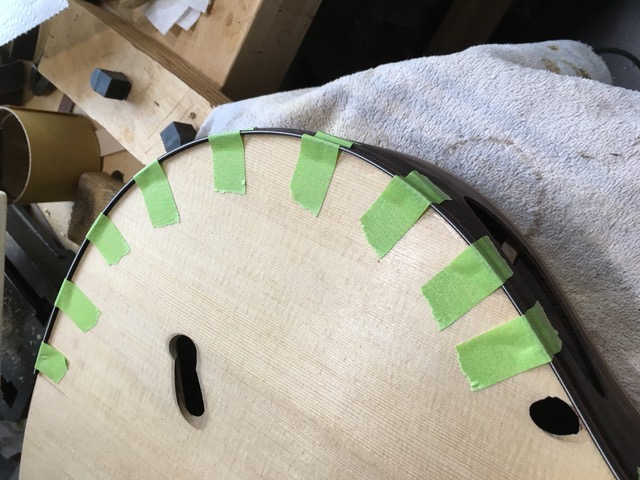 12/3/18 update:
https://cdn.dreamguitars.com/2021/06/m7XKChex-skytop-williams-custom-2018-build-12318.png
1080
1080
Logan Wells
https://cdn.dreamguitars.com/2021/06/dreamguitars-logo.png
Logan Wells
2018-09-11 18:34:02
2021-06-30 13:57:14
Skytop Goes Teredo for Custom Build