Hi gang!
The good news keeps pouring in, which in our case means more amazing custom builds with our favorite luthiers. The latest addition to that roster is California-based luthier Isaac Jang. We've been telling anyone will listen that both his aesthetics and his acoustics are astounding, and that's led to one of our clients coming forward for a custom build. He wanted all the bells, all the whistles, and even the boxes that they came in. This afforded Paul another opportunity to talk it over with the client, weighing the pros and cons of each option, and the result is a Jang OM that's dressed to the nines for both fingerstyle and flatpicking. Check out below for a full spec sheet and the first salvo of photos from Isaac's bench. More to follow!
Here's Paul on that process:
"Helping players build a custom instrument for their music is one of the most satisfying things I do. Being a player myself, I've realized that having an instrument that fits like a old pair of jeans is immensely satisfying. One of the misunderstandings about custom building guitars is that a dealer like us adds cost. We do not: we always sell at the same price as the builders themselves. What we do is add value by giving the client objective third-party opinions coupled with years and years of experience regarding wood combinations, tonal needs, and how to avoid common pitfalls. For this guitar the client and I went through many pictures of sets of wood for both the back and sides and the top. But even before that I had a conversation with Isaac to ask about what wood he currently had in stock that he was really impressed with.
I do this a lot. Each time I work closely with the builder to make sure the client gets the best possible results, keeping the lines of communication open between both parties so no balls are dropped. A big part of what I do is make sure that the builder knows how the guitar will be played. I make sure to understand the genre of music the client plays in, their particular playing style, whether the guitar will be fingerpicked and/or flatpicked, amplified or not–the list goes on, and on. There's a lot that goes into building a custom guitar, but the result is a perfectly-tailored instrument for that particular player. You can't find that anywhere else."
New Custom Isaac Jang OM Specs:
Brazilian Rosewood back and sides
Adirondack Spruce top
Voiced for 70% flatpicking, 30% fingerstyle
Uchida Bendaway cutaway
1 3/4″ nut
2 1/4″ string spacing
Medium setup for light gauge strings
K&K Pure Mini
Heelblock strap button
Gold Gotoh 510s with Ebony buttons
Subtle body wedge
2/2/2018: Oh so close! Heading into the spray booth now, then it's on to final setup.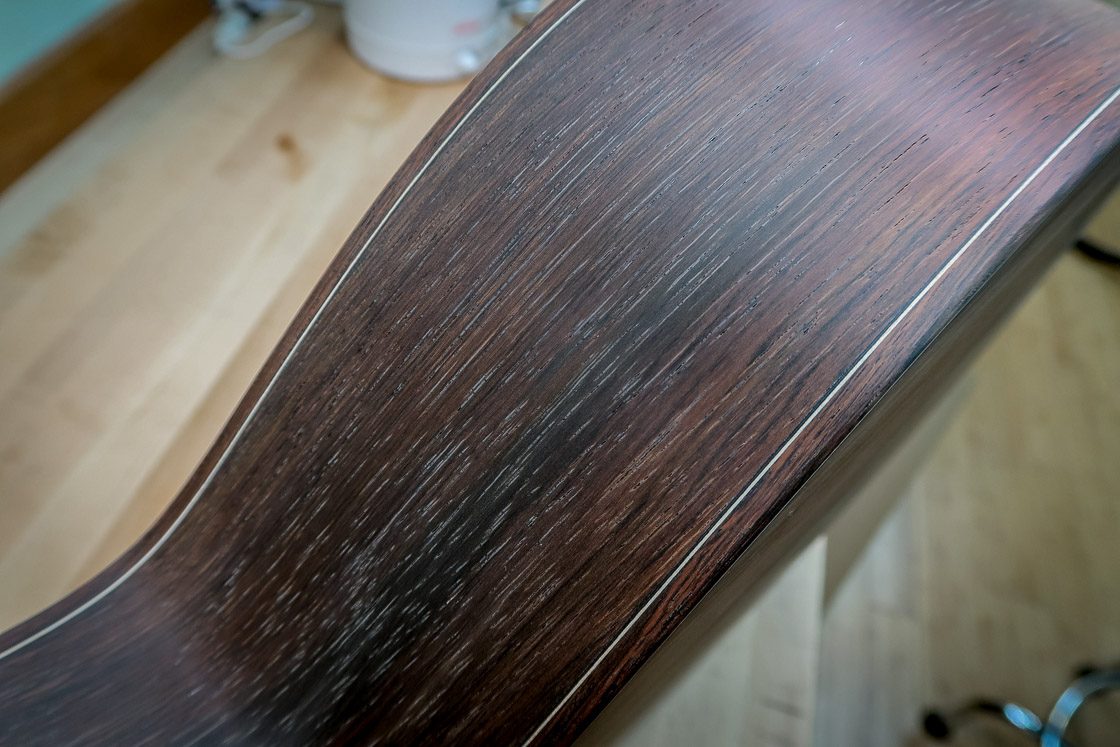 2/14/18 Update:
So close! Back from the finishers, Jang's latest is read for final setup. We should have it in-hand in only a few days, so stay tuned for Dream Guitars' full video and photo workup! We promised the owner we'd get it to him as soon as possible, so we'll be quick.
Stay tuned for updates! As the build progresses, so will our blog.
https://cdn.dreamguitars.com/2021/06/XV4UoFh1-2017-Isaac-Jang-OM-Back-sides-selected.jpeg
2048
1536
Logan Wells
https://cdn.dreamguitars.com/2021/06/dreamguitars-logo.png
Logan Wells
2017-11-21 18:34:19
2021-06-30 13:29:03
A Builder, A Dealer, and A Player: Dream Guitars' latest collaboration with Isaac Jang